Greetings from the folks @ the Sudbury Wild Birds Unlimited® Nature Shop!
Nature Products Designed by Experts - Trusted Local Advice!

Your Backyard Counts! Take Part in the GBBC!
Take Part in the Great Backyard Bird Count, February 12 - 15, 2016
February 12 - 15, 2016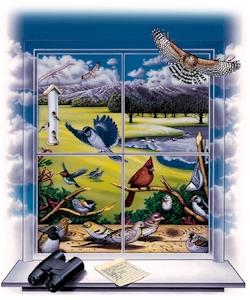 When you feed birds in your backyard, it shows that you value having a daily relationship with nature and that you are willing to take action to foster it.
Like many of us, if you have been feeding birds for a while…you probably have a reputation. Your friends, neighbors and relatives likely see you as a person who loves nature, and they value your willingness to share the joy of "your" backyard birds at a moment's notice.
Your hobby and your backyard truly count as things that are important to you.
The Great Backyard Bird Count gives you the opportunity to make them count even more than ever by participating in this annual event which links citizens with scientists in an effort to collect important data about backyard birds.
The GBBC is a joint project of Cornell Lab of Ornithology and the National Audubon Society and is sponsored by Wild Birds Unlimited. It takes place each February. Count the birds in your backyard, and then simply report the information online at http://gbbc.birdcount.org/.
Your information becomes part of an extensive data base that is analyzed by scientists to better understand important trends in bird populations, range expansions, habitat changes and shifts in migration patterns.
Make your backyard count even more for the birds when you participate in this year's GBBC. And to ensure the birds all show up to be counted, visit our store for the widest variety of great bird food products!

How To Better Identify
Birds for GBBC
As a Great Backyard Bird Count (GBBC) participant, you may see birds you don't know. To identify lesser-known birds, practice answering the following questions, looking at a bird from the top down.
1. Silhouette
Look at the bird's overall size, shape and posture. Is it the size of something familiar like a sparrow, robin or crow? How does it sit, perch or fly?
2. Head Markings
Does the bird have a colorful or striped cap? Is there a stripe above or through the eye, or does it have an eye ring or "spectacles?" Look for cheek patches or a mustache. Is there a white throat patch?
3. Body Markings
What are the overall back, breast and belly colors? What's on the chest: a patch, spots, streaks or is it clear? Are the flanks (sides of body) clear or streaked? Is there a white or yellow rump patch?
4. Wing Markings
Are the wings a different color than the body? Are there wing bars or spots?
5. Tail Shape and Markings
Is the tail long or short compared to the body? Is it forked, squared, pointed or another shape? Are there certain colors or vertical or horizontal stripes?
We offer a variety of binoculars that will provide clear views and field guides that will help you determine a bird's identity. With practice, you will quickly gather all the clues you need to positively identify birds.
For more tips on how to better identify birds, visit http://gbbc.birdcount.org/.
________________________________________________________________________
Is there a Screech-Owl in your neighborhood?
Have you ever encounter
ed a screech-owl? Eastern and western screech-owls are nearly identical. Until 1983, they were thought to be the same species. DNA tests showed they are not.
Individuals in both species can be gray or red (rufous). Most Eastern Screech-Owls care browner that their western cousins. Western screech-owls range from gray to brown, and, in the Pacific Northwest, even rufous. Red morphs occur throughout the Eastern Screech-Owl's wide range though less commonly than gray. The gray morphs of both species are practically impossible to distinguish—except for bill color: the Eastern Screech-Owl's is greenish; the Western's is pale gray to black.
Bill color, however, is hard to see in the nocturnal bird! Good thin the ranges of the two species don't overlap much: Western Screech-Owls range west of the diagonal line that extends from southeastern Alaska along the Pacific Coast of British Columbia to the Texas Panhandle and south into Mexico. East of that line is the range of the eastern Screech-Owl, occupying roughly the eastern two-thirds of the United States. Both species can be found in open woodlands, including urban parks and backyards.
The ranges of the two species overlap only in west-central Texas, where hybrids sometimes occur. If you are there, or standing on the line where the two species meet, the best way to distinguish eastern from western screech-owls is by sound.
Eastern screech-owls have a descending whinny that sounds like that of a tiny horse, as well as a long, whistled trill on one pitch. Western screech-owls give an accelerating
series of short whistles, reminiscent of a bouncing ball as it comes to rest, that descends slightly at the end. It also emits a two-note whistled trill. Neither species screeches, but both bark and chuckle.
Screech-owls are very adaptable to human habitats. I have only seen a Screech-Owl twice in my back yard, but have heard them many times: around midnight, and just
before dawn. Each time, their call seems to be coming from the top or a pine tree at the back of my tree line.
Both species are about as tall as a robin, but shaped more like a pint jar—with ear tufts. Regardless of color, screech-owls'
plumage provides effective camouflage. Even when perched on an exposed limb or snag, they can look like a broken branch.
Screech-owls eat a variety of smaller critters: small rodents, moths, earthworms, crayfish, frogs, small fish, and even small songbirds.
If you have a lot of trees in your neighborhood, odds are, you have a screech-owl for a neighbor. Consider installing a suitable nest box in your yard: screech-owls readily inhabit them, especially where natural cavities—holes in big trees—are scarce. Outside of nesting season and especially in winter, an owl might use a nest box as a daytime roosting spot.
We carry a wide variety of nesting boxes at Wild Birds Unlimited year round and early winter is an ideal time to come in to buy a Screech-Owl nesting box. They are designed to the correct dimensions to meet the owl's nesting and roosting needs perfectly, thus maximizing your chances in attracting one of nature's gems.
Top 10 Winter Bird Feeding Mistakes to Avoid
Help Your Birds Survive Extreme Winter Weather
___________________________________________________________________________________
Birds love our exclusive seed cylinders and no-melt suet cylinders. Unfortunately, so do many nimble, furry backyard inhabitants.
Well, no more! We've added some heat to our bird food cylinders. While birds such as chickadees, titmice and nuthatches readily eat foods containing hot pepper, pesky critters will shy away from them.
For best results, use a cylinder feeder with a roof to prevent the hot pepper from being washed off or diluted by the weather.
Attracting Birds To A New Feeder
What's the best way to attract birds to a new feeder? There isn't a perfect answer for this question, but it's one we get a lot! There are times when you put up a new bird feeder and birds come to it within minutes. And, other times it can take months for the birds to come. You may notice the birds fly by a feeder and stop in mid-air as if to say "whoa, new feeder alert, turn back!"
Give the birds time to find the feeder and get used to its presence in your yard. Make sure the birds can see the feeder, as they find their food by sight. Try putting some seed on the ground or near the feeder. Above all, be patient!
Bird Feeding: A Hobby for All Seasons
How good are our seed blends? So good, Martha Stewart has tasted them!
Our blends may be tasty enough for the "Domestic Diva," but, they can't overcome nature and disrupt birds' normal routines.
See, there's some sort of urban myth that says people should not feed the birds year-round because it will make them lazy or too dependent on food offered at feeders.
In truth, there's no reason, or season, you should stop feeding your birds. After all, food offered at feeders only makes up about 10 to 20% of a bird's diet.
During winter, food is scarce and birds fed in these harsh months are more likely to survive to raise their young in the spring.
Birds that are fed during nesting season spend less time away from their nests looking for food.
During summer, many food sources are still growing and providing food allows birds to teach their fledglings where and how to feed. In the fall, you can provide food for migrating birds and help over-wintering birds prep for the tough months ahead.
Birds with year-round access to abundant food supplies, such as backyard feeders, can spend more time doing activities that enhance their health like preening, nesting, molting and being more alert of predators.
So stop by the store for the best prices on the best bird food in town. We will help you enjoy your birds more and make their lives a bit easier, and that's a very good thing.
Variety is the Spice of Bird Feeding
Bird feeding has come a long way since its primitive beginning in the late 1800s.
In those days, bird feeding enthusiasts could only offer some waste grains swept up from a hay-loft, bits of suet or pork fat nailed to a tree or maybe a few table crumbs placed on a tree stump.
Today, thanks to decades of observation and research, the menu available to your backyard birds is the most diverse, highest quality ever offered.
This broad selection of foods has been developed specifically to attract a wider variety of birds to your feeders and provide the most beneficial foods to meet birds' nutritional needs.
Peanuts, being relatively new to the bird feeding menu, are a great example. They are nutritionally high in protein and fat while being very attractive to a broad array of woodland and backyard birds.
Since the 1990s, mealworms have dramatically grown in popularity because of their ability to draw insect-loving birds, such as bluebirds, wrens, catbirds and even certain warblers into the backyard.
Then there's Jim's Birdacious® Bark Butter® — no other single food is known to attract more birds. More than 76 species have been observed feeding on this nutritious, spreadable suet.
So embrace these advances in bird food. They will attract an exciting new variety of birds to your yard, while providing them with much better nourishment than the foods our ancestors scraped together more than 100 years ago.